Looking for local Rubbish Removal services in St Albans?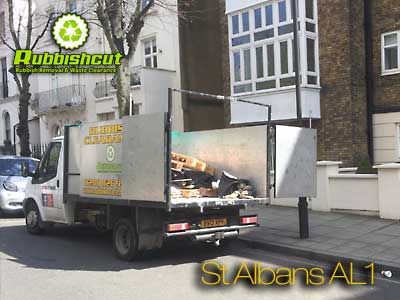 Were you ever in the need of mattress disposal? We have a perfect solution for removing old mattresses, fridges and many more. Rubbishcut Ltd is a fully licensed and insured waste disposal company offering its services in St Albans. The main scope of works includes house, garage, garden and office clearance, but it is not limited to only comprehensive services. Using the easy booking system that also includes online booking you may get rid of almost any junk from branches and twigs to bricks and rubble. If you have any doubts obtain free and non-obligatory quote and find out how easy and convenient it is to remove rubbish.
Affordable and trusted St Albans rubbish clearance solutions
We offer a full range of wait and load rubbish removal services. For any of your rubbish removal needs in St Albans, Rubbishcut is a great alternative to skip hire. There are many more reasons to use Rubbishcut:
We are fast reliable and affordable
We are fully licensed (license number CBDU130269)  and insured
Easy quotation and booking online or on the phone
We always dispose of all waste responsibly
Same fridge or mattress disposal in St Albans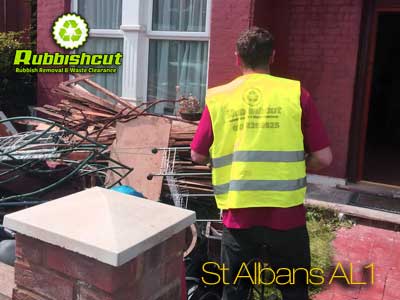 You already know how to get rid of an old fridge, but how about clearing up your garden for summer? Maybe you have some old garden furniture or branches and twigs. The content does not matter, the package as well. Our employees always do their best to help you with the clean-up in St Albans.
The case gets even simpler when it comes to garage. It often serves as a storehouse for many unused junk, remains after recent renovation or antiques. Your main job is to open the garage door. Our team is well prepared to deal with any kind of rubbish.
Similarly, the basement may be cleaned-up within minutes. All the old clocks, wardrobes and other antiquities finally have to leave your home. We have men and tools that will dispose of the rubbish.
The above-mentioned services constitute only a part of our possibilities in St Alban. We can do much more and it only depends on you whether you want to get rid of certain objects. The rest is our speciality.
There is nothing else like St Albans. Its incredibly rich history, dating back to Celtic and afterwards, Roman days, creates a unique atmosphere of a market town. But even in such a beautiful place there is always something to get rid of, and we can take care of it.
Trusted Partners
We have a great working relationship with many companies who use our rubbish removal service. Rubbishcut  provides waste clearance for construction companies, property managers, estate agents, private landlords and many other various businesses.