Rubbish Removal in Hertford by Licensed and Affordable Waste Clearance Company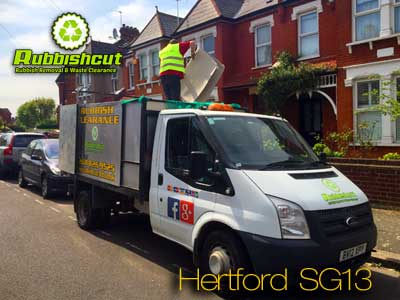 The market of waste disposal is full of competition. There are many companies that deal with rubbish disposal in Hertford and surrounding areas. What distinguishes Rubbishcut Ltd is not only the scope of services but also the customer-oriented approach. We are in Hertford to help you dispose of any unnecessary or broken appliances, equipment, leftovers and remains from works conducted in your house, garden or even basement. Our competitive prices and easy online booking system create a unique opportunity to quickly get rid of rubbish. If you are in a hurry we offer same day pick up to make your life cleaner and easier.
Affordable waste clearance services in Hertford by Rubbishcut Ltd
We offer a full range of wait and load rubbish removal services. For any of your rubbish removal needs in Hertford , Rubbishcut is a great alternative to skip hire. There are many more reasons to use Rubbishcut:
We are fast reliable and affordable
We are fully licensed (license number CBDU130269)  and insured
Easy quotation and booking online or on the phone
We always dispose of all waste responsibly
Same day house, garage, office, attic and garden waste clearance in Hertford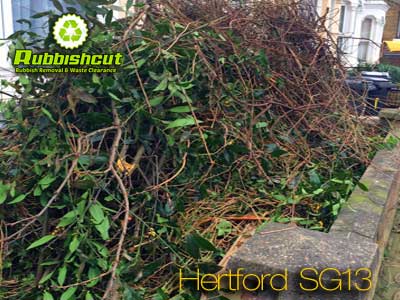 Garage clearance ­ there is no object too big or too messy for us to pick. We can un-clutter your garage from junk, old pieces of furniture or even unused tools.
Garden clearance ­whether you have just finished spring or autumn cleaning, or when you just want to get rid of twigs or branches. Our team will make your garden amazing again.
House clearance,­ old wardrobe, fridge disposal, oven or a couple of toys. None of them is a problem for our staff, even when you want to get rid of all broken appliances or furniture. We have necessary means to deal with all the rubbish in Hartford.
Office clearance ­ if new office furniture just wait to be taken inside your refreshed office space in Hartford and the only thing you have to do is get rid of the old stuff, we are here to remove it for you. It will be a fast operation with reasonable costs.
Hertford lies just around 30 km north of central London in an enchanting confluence of four river valleys. With its medieval town centre and old building with timber frames it constitutes the very essence of country-town feeling. It is definitely a destination worth visiting, especially if you are a hard rock fan – the famous band called Deep Purple formed in Hertford in 1968.
Trusted Partners
We have a great working relationship with many companies who use our rubbish removal service. Rubbishcut  provides waste clearance for construction companies, property managers, estate agents, private landlords and many other various businesses.