Prices of Rubbish Removal Services
Rubbish removal prices may seem expensive, but you should always avoid using cheap rubbish removal services if you care about environment and don't want to get penalty for fly tipping. We dispose of all the rubbish responsibly and we are fully insured and licensed waste carrier. You can view our license here CBDU130269
Minimum charge is only £35 – this is for collection of just 1 bulky item or up to 10 light bags, not bigger than 1 cubic yard and not heavier than 60 kg and already put out outside for collection with easy access to park our vehicle (1 single mattress, 1 armchair, or 4 chairs, 1 disassembled wardrobe, emptying of  1 wheelie bin or up to 10 light bags)
Load Size
Kg
Price
(excluding VAT)
Loading Time
(included in price)
Minimum charge – up to 1 cubic yard
60 kg max
£35.00
5 min
Small Load – 1-2 cubic yards
150 kg max
£50.00
5 min
Quarter Load – 3 cubic yards
500 kg max
£90.00
15 min
Half Load – 6 cubic yards
750 kg max
£140.00
20 min
3/4 Load – 9 cubic yards
1000 kg max
£180.00
45 min
Full Load – 12 cubic yards
1500 kg max
£260.00
60 min
XL Load – 14 cubic yards (request 14 yard when ordering)
1500 kg max
£ 285.00
70 min
Additional charges: 1 Mattress £15, 1 Small Fridge £40, 1 Large Fridge £60, 1 Tyre £10, Additional Loading Labour Time £25/h
Please note that in a rare event of inaccurate quote, we will contact you regarding additional charges because all the waste we collect is disposed responsibly and we have to pay fixed rates for recycling and disposing of various waste. This can happen in certain scenarios, when customer didn't provide us with enough information about the rubbish that needs collecting. Sometimes the waste cannot physically fit in our vans due to exceeding dimensions or weight limit.

From 1st of October 2017 we will be charging £11.50 additional fee for Congestion Charge.

Please note that in case of heavy builders rubble, we must charge by weight, as we cannot fill the whole van full of rubble due to weight limit.
We have two van sizes: 12 cubic yard vans and 14 cubic yard vans. Usually we send 12 yard vans, so if you require 14 cubic yard load please tell us that you need XL Load when ordering.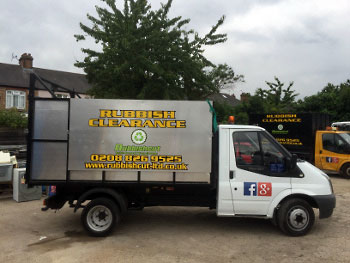 Trusted Partners
We have a great working relationship with many companies who use our rubbish removal service. Rubbishcut  provides waste clearance for construction companies, property managers, estate agents, private landlords and many other various businesses.