Rubbish Clearance in Kensington. Fully Licensed and Insured Waste Clearance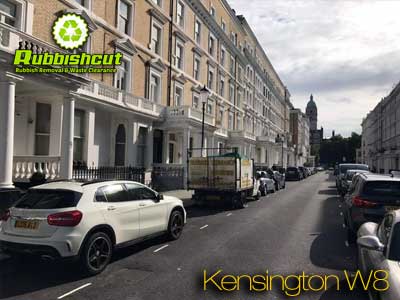 Rubbish removal in Kensington our priority. Royal Borough of Kensington and Chelsea situated in central London is a trendy area with expensive properties and many tourists. For this reason it is important to keep it clear of any rubbish. Whether you need house clearance, garage or office clearance in Kensington, Rubbishcut Ltd offers fully licensed and insured, same day rubbish clearance services. Just give us a call or fill our online form to book same or next day rubbish removal service in Kensington.
Kensington is a western part of London, which can be divided into various sub-parts. The main area of the district lies along the Kensington High Street, which is a lively, commercial centre. What is interesting, this area was acknowledged as the second best shopping street of London in 2005. The border of Kensington is not that well-defined. Especially, the southern area is somehow similar to the one of Chelsea district, since the architecture is very alike. Kensington can be characterised by its dense population- it is a part of the most densely populated district in the United Kingdom.
Fully licensed and insured Kensington rubbish clearance sevices
We offer a full range of wait and load rubbish removal services. For any of your rubbish removal needs in Kensington, Rubbishcut is a great alternative to skip hire. There are many more reasons to use Rubbishcut:
We are fast reliable and affordable
We are fully licensed (license number CBDU130269)  and insured
Easy quotation and booking online or on the phone
We always dispose of all waste responsibly
Same day house, garage, office, attic and garden waste clearance in Kensington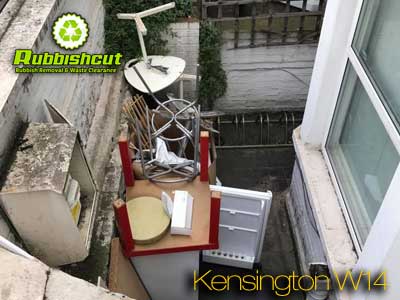 Rubbish Cut is a company that cares deeply about the free time of their customers, so you are saved as much trouble as possible. Additionaly, our crew is one of the most friendly and polite rubbish clearance teams in London. For more information about our service, contact us via email or just call us. We will gladly answer all of your questions and make sure that you are provided with all the details necessary for you to make a good decision. Additionally, we may prepare a free quotation and if the price is not satisfactory to you, we are open to suggestions.
One of the most distinctive places in the area is The Royal Borough, which has been home to the monarchy (for example to the late princesses Margaret and Diana) since XVII century. The gardens at the Kensington Palace were made public by George II, so people living in this area gladly spend their free time in this well tended place. Although it might seem like it, district is not so far from the city centre, Kensington is only a few tube stops from the heart of London.
This interesting and extraordinary district lies within the area of Rubbish Cut service. This rubbish clearance company will gladly empty your property of all unwanted trash. If you find yourself having a backyard that is cluttered by broken appliances, damaged furniture pieces or other waste, trust this reliable and hard-working team. Our service is always thorough and accurate, so no unwanted rubbish is left behind. We pride ourselves on being a customer-oriented and professional company. Our team of well-experienced specialists will make sure that Kensington rubbish clearance service we provide is of the best quality, as we strive to become one of the leaders in the area of London.
Trusted Partners
We have a great working relationship with many companies who use our rubbish removal service. Rubbishcut  provides waste clearance for construction companies, property managers, estate agents, private landlords and many other various businesses.